Gamechangers™ is a leading corporate magazine news site.
Serving the finance sector since 2003, we provide our Global audience of over 261,000+ subscribers with the information behind the headlines.
Gamechangers™, the English-language magazine news portal is read exclusively by senior executives holding power and authority at major organisations. Our readership are the people who will select and authorise the purchase of your products and services. The magazine is intended for CEO's & CFO's as well as other corporate finance and private equity executives from all corners of the globe.
Gamechangers™ achieves its objectives through non-bias, concentrated, up to date flagship coverage, country reports and multilateral documents, in some cases commissioned by corporate, governmental and multilateral institutions.
Gamechangers™ is a valuable addition to the sources of expert information required by leading businessmen when they are fine-tuning their corporate strategies.
We work with bi and trilateral organisations, international traders, governments and leading opinion makers to further the core competencies of participating businesses, guiding them to the decision makers within their markets.
Focused analyses of on-going economic and business developments in key infrastructure areas form the core of our publishing initiatives i.e. Construction, Telecom, Information Technology, Investment Banking, Water, Power (Electricity, Gas, Oil, Wind and alternative), Mining and other national and international projects. Gamechangers™ has established a basis across North America, Europe, Asia and the rest of the world. The magazine's depth of purpose and authority is manifested in its value adding environment constructed by distinguished experts who are in direct contact with the cutting edge issues moulding our planet today. Many of them are leaders of corporations, governments and NGO's with a vested interest in strong, stable and competitive global economies.
Gamechangers™ takes a sector perspective based on the fact that M&A activity and foreign direct investment in the dominant industries (energy, consumer goods and machinery) is less strongly influenced by national constraints than by sector characteristics. Articles focus on players (who is investing?), targets (who is being bought?) or both (who is buying whom?), as well as the driving forces in various industries.
Gamechangers™ explores the topics of strategy and human resources. In short: everything that financial decision makers need to know. In terms of its breadth and quality, Gamechangers™ holds a unique place in the English-language publishing community.
You will find thorough analysis of individual transactions and company strategies in Gamechangers™ as well as well-grounded assessments of market changes, exclusive interviews with important thinkers, breaking news and updates about people on the move.
We also have regular reports from each of our market specific experts in Featured 5 section, which includes responses to reader's letters and questions.
Gamechangers™ provides a knowledge sharing environment in its productions.
Who we are:
D Rogan
President & Editor-In-Chief
J Van Dyke
Editorial Director
J Wiltshire
Publisher
EDITORIAL
J Robson
Editor-At-Large
L. B. Kooler
Deputy Editor
T Gardiner
Senior Editor
E Skooda
Digital Editor
J Forsythe
Digital Associate Editor
J LaRusso
Copy Chief
M-C Fisher
Editorial Assistant
B Sancheze
Senior Staff Writer
ART & PHOTOGRAPHY
S LaVale
Art Director
S Parsons
Art & Photo Assistant
C Noyes
Digital Media & Audience Development
ADVERTISING
A Bott
Digital Advertising Director
J Downey
Advertising Director
Z Wolfel
Business Development Director
C Thomas
Account Executive
H Smith
Account Executive
MARKETING
C Horn
Marketing Director
T Roark
Marketing & Events Manager
DESIGN & PRODUCTION
K Odendahl
Advertising & Marketing Art Director
M Skolak
Print Production Manager
T Head
Digital Production Manager
C Lambert
Graphic Designer
S Pennewill
Design & Production Coordinator
CIRCULATION
A Congleton
Audience Development Manager
ADMINISTRATION
A Kessler
Finance & Administration Director
B McLaughlin
Technology Manager
P Ramone
Senior Operations Director
SO WHY 5?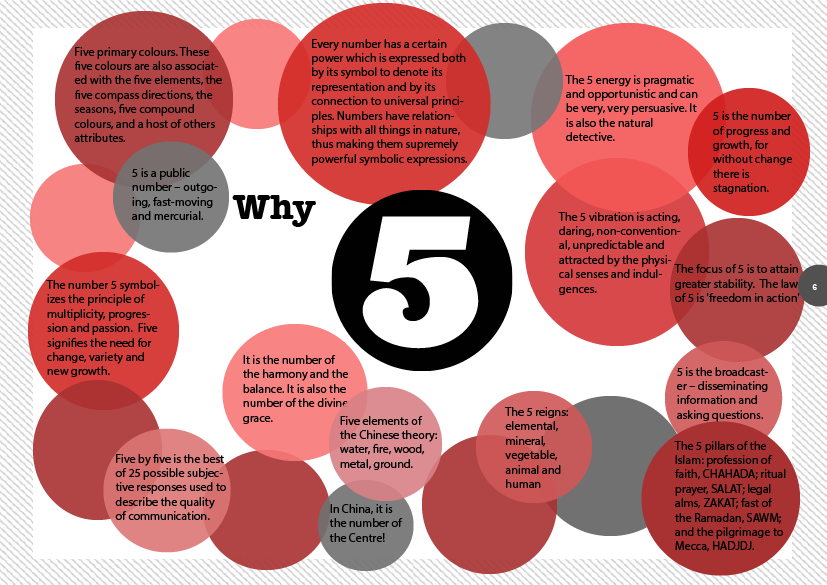 The IMPORTANCE OF 5 TYPES OF THINKING
Great leaders think strategically.
They can understand and appreciate the current state as well as see possibilities. When dealing with today's issues, they operate from a broad, long-term perspective rather than focusing only on short-term implications. And they can gather information and make decisions in a timely manner.
Most of all, strategic leaders know how to strike a balance between visualising what might or could be and an effective day-to-day approach to implementation. They can look into the future to see where the company needs to go and what it will look like once they get there. And they can do this while making sure the right things get done on a daily basis.
This type of strategic leadership requires five different types of thinking. Knowing when and how much to utilise each one is the hallmark of great leaders.
1. Critical thinking is the mental process of objectively analysing a situation by gathering information from all possible sources, and then evaluating both the tangible and intangible aspects, as well as the implications of any course of action.
2. Implementation thinking is the ability to organise ideas and plans in a way that they will be effectively carried out.
3. Conceptual thinking consists of the ability to find connections or patterns between abstract ideas and then piece them together to form a complete picture.
4. Innovative thinking involves generating new ideas or new ways of approaching things to create possibilities and opportunities.
5. Intuitive thinking is the ability to take what you may sense or perceive to be true and, without knowledge or evidence, appropriately factor it in to the final decision.
NOW YOU KNOW!
READERSHIP
Circulation (Jan 2023) c.261,000+
Gamechangers™ has established itself as a leading news portal for the corporate market.
Gamechangers™ has provided and continues to provide a monthly snapshot of corporate news that have taken place around the world.
The quality of Gamechangers™ is further demonstrated by the seniority of our readers. It doesn't matter if you are a CEO, CFO or Partner of a firm, Gamechangers™ is required reading. Our readers work in companies covering the full range of the marketplace from Lawyers to Bankers, Fund and Investment Managers to Due Diligence specialists, Gamechangers™ is on their desks and computers.
TESTIMONIALS
Gamechangers™ works in partnership with its supporters and contributors, many of our most prominent supporters have been happy to provide comment on their experience of Gamechangers™.
©2023 Gamechangers™